A fan-made picture of Kobe Bryant posing like Wilt Chamberlain after his 100 point performance on March 2, 1962, circled the internet after Bryant's 81-point performance against the Toronto Raptors on January 22, 2006. (Photo courtesy of Twitter)
Former NBA player and current ESPN NBA analyst Jalen Rose perhaps said it best, "If Michael Jordan is the original then Kobe Bryant is the remix baby!"  But on January 22, 2006, a 27-year-old Bryant did something that "His Airness" never accomplished on the NBA hardwood. The only other player who can be spoken in the same sentence as Bryant is Wilt Chamberlain. What Bryant and Chamberlain have in common is that they are the only two players in NBA history to score a minimum of 80 points in a game.
In the same 2006 season, Bryant scored a career-high 62 points a month prior against the Dallas Mavericks. In that game, Bryant sat out the entire fourth quarter since the Mavs had been outscored by Bryant 62-61, and 95-61 overall. The Toronto game was different. The Lakers found themselves in an 18-point hole after the Raptors extended their third quarter lead 71-53. Bryant literally shot them back into the game and into the win column.
This wasn't a typical Bryant game.  It was not a game where Bryant shot the Lakers out of a game and then back into it.  Every point Bryant scored was "instrumental" in rallying his troop of Lakers.  Bryant was never known as an efficient scorer, more like a high-volume shooter who was the best bad-shot taker and maker since Jordan.
Exhibit A:
Bryant drives towards the right sideline, just inside the arc and appears to be stuck as Mo Peterson is draped all over him. A series of fakes and a made tough, contested shot later, Byrant goes to the charity stripe to complete the unconventional 3-point play.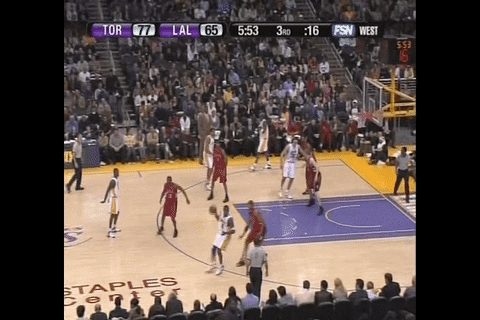 Bryant lit up the Raptors for 55 points in the second half.  Scoring 27 in the third and 28 of the team's 31 total fourth quarter points. Bryant was 28 of 46 from the floor (61 percent), knocking down 7 of 13 from three-point range (54 percent) and going 18 of 20 from the free-throw line (90 percent).  By far the most efficient, high-scoring performance of his illustrious career. Just look at all that green! The same color as money. On that night Bryant was a cash king.
After the game, Byrant was asked by members of the media about the Raptor's lack of defensive adjustments, "We were thinking when is Toronto going to start doubling or tripling you?"  "Were you surprised they didn't?"
"A little bit, I noticed that they started zoning me up alot more and started to send guys at me" said Bryant. "I just moved the ball on and then when I got it back I got in a position where i could attack quickly, and get to a postion where I'm on a spot on the floor where I could shoot a pull-up jump shot or get all the way to the basket before the double team came and try to draw some fouls."
Bryant rallied the Lakers to a 122-104 victory as the 18,997 screaming fans inside the Staples Center loudly gave him a thunderous "MVP" chant as he left the court with 4.2 seconds remaining in the fourth quarter.
In the process Bryant set a Laker's franchise record for most points scored in a single game, breaking Elgin Baylor's record of 71.
Bill Simmon's former website Grantland had video segments called 'Story Time with Jalen Rose'. In a short video, Rose describes what it was like to be on the same court as Bryant when he torched his then Raptors team on his way to 81 points.
Rose, who is a regular contributor on various ESPN media platforms, and often has to deal with the reminders that Bryant dropped 81 on him and his team.  Rose often sidesteps the venom being spewed his way by crediting Bryant for not "saying a word, pounding his chest, or pointing up to the heavens" during his 81-point onslaught.  Something that has faded from the league during this Twitter and social media era.
That doesn't mean that both parties can't have a little fun taking a trip down memory lane over a decade later as part of his Rose's Jalen vs. Everybody video series.